Mt Cook, Day Tour From Christchurch Via Mt Cook (Small Group, Carbon Neutral)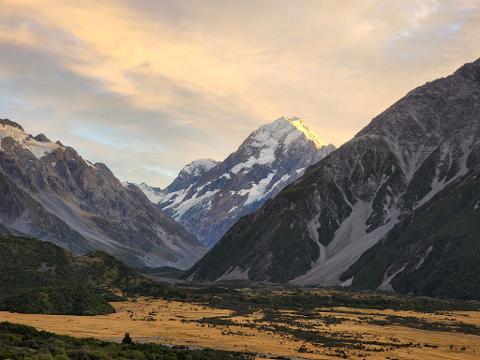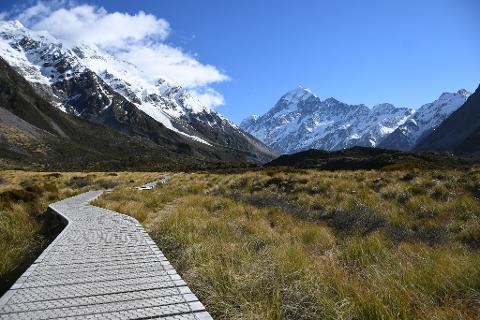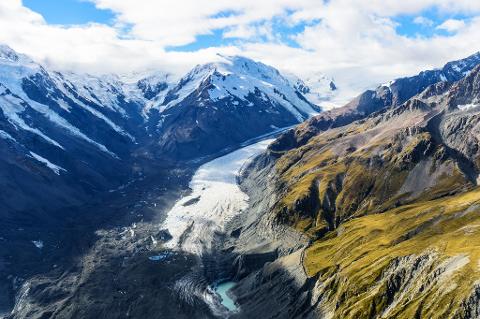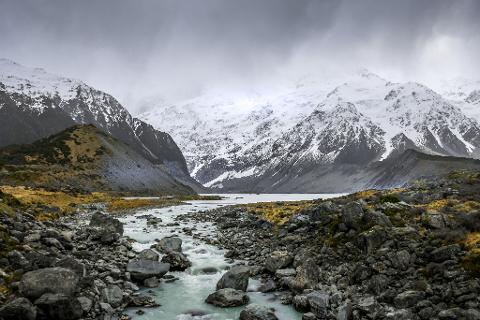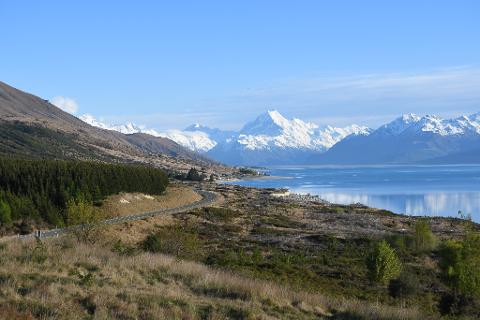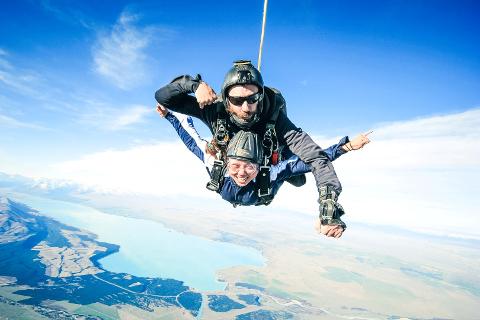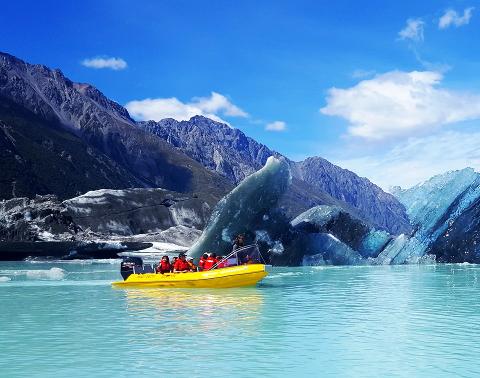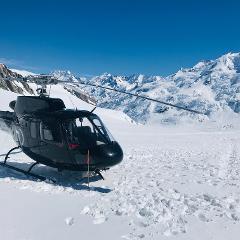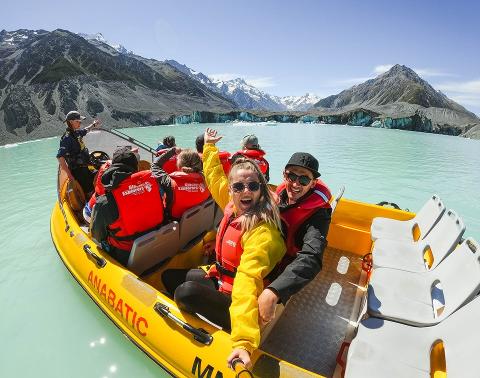 Duration: 8 Hours (approx.)
Product code: CHC05
Aoraki Mount Cook – The mountain that prepared Sir
Edmund Hillary for his conquest of Everest, and
the tallest mountain in New Zealand. Lying deep in the Aoraki Mount Cook
National Park is New Zealand's longest glacier – Haupapa/Tasman Glacier. Lake
Tekapo - famous for its crystal clear
waters with the majesty of the mountains as a backdrop. These are the places
you will discover or rediscover on this tour, so escape the hustle and bustle
and head out on an adventure that takes place in some of the most beautiful
parts of New Zealand. Plus lunch is at the simply stunning Hermitage in the
Mount Cook National Park, what is a better place to eat with a view!
You will be driven in comfort in our modern, comfortable minibuses
packed with extras, just to make your journey that bit easier. Led by our fun
and knowledgeable and passionate tour guides, this journey will come to life in
a new way for you.
Memories, made, hearts happy and photos a plenty in this tour!
Highlights
Fairle Bakehouse
Church of the Good Shepherd – Lake Tekapo
Mt Cook and Aoraki National Park
Tasman Glacier, Lake Pukaki
Hooker Valley Track
Hermitage Lunch
Itinerary
Christchurch - We start by leaving Garden City/Christchurch and
head south towards our destination, while our knowledgeable driver points out
some of the Garden City's highlights.
Canterbury Plains - We make our way through the Canterbury Plains
with our world famous New Zealand farmland and countryside just out the window.
Hinds - Arriving in Hinds, we stop briefly to use the toilets and a stretch of the legs.
Fairle Bakehouse
- Quick stop to refuel, grab a coffee and try one of New Zealands best pies.
Lake Tekapo - After we have refuled for the next part of our
journey, we leave Geraldine and head towards Lake Tekapo, while along the way
we go through some pretty impressive alpine passes with amazing view. Once we
crest he hill to Tekapo the crystal clear waters are waiting to greet you.
Church of the Good Shepherd - Once arriving in
Lake Tekapo, the Church of the Good Shephard awaits for you to take those
all-important Social Media worthy photos plus videos, your friends back home
will be wishing they were there with you.
Lake Pukaki - After all the photos are taken, we turn west and
begin to enter the Aoraki/Mt Cook National Park, with Lake Pukaki showing us
it's beauty before us. We stop for some more photos and to simply be still and
take in the scenery, you will be able to understand why Lord of the Rings
scenes were filmed nearby, and our drivers will be happy to point those out to
you.
Aoraki/Mt Cook National Park – While we are in
the National Park, you will have 2.5 hours of free time to enjoy some of the
local activities. There are free walks/hikes or one of the optional extras such
as scenic flights available. Whatever you wish to do, we will pick you up and
drop you off where you need to be, you will be well looked after.
Tasman Glacier – One of our recommendations on this trip during
your free time is to do the Lake Walk, and viewpoint. This track leads through
the he glacier's old terminal moraines, and there are amazing views of the
glacier, river and lake.
Mt Cook Information Centre – Last but
certainly not least, we will take in the beauty that is Aoraki/Mount Cook.
Weather dependant we will be able to get some amazing photos and videos of the
mountain itself. At 3724m, Aoraki/Mt Cook is New Zealand's highest peak,
however, the mountain can be viewed without any acclimatisation whatsoever from
the village which is just 750m above sea level.
Christchurch – After what has been a simply beautiful day, we
will head back to the Garden City, on the way back you will be able to relieve
your day through all the photos and videos you took.
Inclusions:
Small GroupCarbon NeutralFully Guided Tour (except walks)Bottled WaterKiwi SnacksWi-FiUSB chargingLunchCommentary100% Kiwi as experience
Optional Extras:
One-way tour from Christchurch to Queenstown via Mt Cook
Scenic flights
Ski Dive Mt Cook
Sir Edmond Hillary Alpine Centre
Tasman Glacier Experience
We at Cheeky Kea Travel believe it is our small groups, our guides, the
journey and all those little details that set our tours well apart. Secret
stops, wildlife viewings, specially designed vehicles, complementary
refreshments and many other fun surprises will ensure our tours are an
experience to remember.
See More, Do More, Spend Less